Rent Silent Disco Headphones 

Locally

Instead of a loud sound system, each person wears the state of the art 3-channel headphones that have a broadcast range of over 500 yards – that's 5 football fields in every direction. The 3-channel system allows up to three different artists to play at the same time, at the same venue, and allows the audience to choose who they want to listen to. The 3 channels are differentiated to the user by colored LEDs on the headphones that light up to correspond to colored lights at each artist's station. Each headphone also has its own volume control for personalized amplification.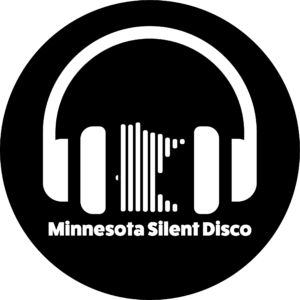 Cost $7 per headphone. Transmitters included. Minneapolis local pickup.
A Minnesota Silent Disco can take place just about anywhere – Festivals, Parties, Birthdays, Corporate Events, Weddings, Fundraising Events, etc.  AND THESE ARE NOT JUST FOR DANCE PARTIES – This concept works great indoors or out for walking tours, outdoor movies, pub crawls, museum tours, mall events, presentations, yoga classes, etc.
WHAT IS A SILENT DISCO EXPERIENCE?
The Silent Disco RF Headphone is a premium quality model has superior sound quality, portability, and convenience. The rechargeable batteries offer 8-10 hours of non-stop fun to transport the system — and your party — anywhere.
HOW DOES THE HEADPHONES SYSTEM WORK? WHAT CAN I PLUG INTO?
Our plug-and-play system allows you to connect any electronic device with a headphone jack or audio input to the Party Headphones Transmitter. Connect DJ mixers, a laptop, iPod, iPad, a TV, or any other device with a play button to the transmitter to instantly start your party.
HOW MANY AUDIO CHANNELS DOES THE HEADPHONES SYSTEM OFF
The Party Headphones offers a three-channel system!
WHAT IS THE WIRELESS RANGE OF THE PARTY HEADPHONES SILENT DISCO RF TRANSMITTER?
Our system can broadcast your playlist at a radius of up to roughly 300 yards.
HOW LONG DO THE BATTERIES LAST?
Batteries last from 8-10 hours on a single charge. They also arrive to you fully charged for maintenance free fun!
WHEN DO I GET THE EQUIPMENT?
The equipment can be picked up from our St. Louis location 1-2 days before your event so you can get familiar with the setup and allows you to reach out if you have any last minute questions.
HOW DO I RETURN THE EQUIPMENT?
After the event, you can drop off the equipment at the St. Louis Park warehouse. 
HOW DO I PAY?
We accept all major credit cards and will email you a payment link before your pick up the headphones. Our standard quote covers a single day event. For longer events, we offer consecutive-day pricing at an additional $3 per headphone for an additional day of use. The headphones arrive fully charged, with approximately 8 hours of battery life. We also have weekly and monthly rates available. All multi-day events will include charging equipment. We are more than willing to be flexible with these terms
DO YOU OFFER STAFFING FOR EVENTS?
We do offer on-site support for equipment rentals, DJ's and lighting packages. Enquire for more info. 
WHAT IS YOUR PRICING?
1-99 headphones – $7 per headphone. Transmitters included.
100-200 headphones – $6 per headphone. Transmitters included.
DJ – Additional charge of $199 per hour, minimum of 2 hours. Includes Lights.
Minneapolis local pickup